The Xbox 360 pictured to the left was originally just a repair. The Xbox 360 had fallen victim to the RROD, and the client just wanted it repaired. A few weeks had gone by after the repairs were completed and the client had called us back inquiring about upgrading the fans. They were too loud for the new cabinet he had just bought. So we ordered fans and set a date, by the time the date had arrived for the upgrade our client came in with pictures. He now wanted to mod the case and add leds to accent the windows, that were to be cut in to the shell. After a long lunch with the client we had decided on the design in the pictures. The design
pays homage to the original Xbox with the giant x shape cut into the top of the shell. We then cut the same x shape into the DVD-ROM cover, and also added the second generation GPU heat sink. The factory fan shroud was replaced with a clear one with built in red leds, the new fans also have red leds built into them, and we also added six red leds to edge light the Plexiglass. After a week of finding parts and modifying the shell the unit was delivered.
Primal enjoyed the custom fabrication so much we have decided to offer it as a service, you can pick any design you want cut into the shell, your imagination is the limit. You can also choose any case color and any led color. The only shipping you will have to pay is the shipping to us, primal will pay for the return. If any other components are upgraded or added to the unit, the work will be warranted for one year. The price listed below includes all modifications except the Second Generation GPU heat sink. This particular upgrade will require additional funds, please call us at 630-492-0354 for additional information. The warranty does not cover any RROD after the modifications have been performed.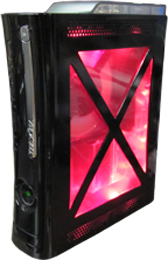 At Primal we welcome you to upgrade your pc with out fear of voiding your warranty; after all it is your unit that you spend your hard earned money on, and in these hard times we can appreciate that. If you have any questions before performing an upgrade(s) please call us. Primal does not use any proprietary parts, mainly name brand of the shelf parts which make the unit easier to upgrade and repair. You will also receive a true driverís disc and operating system disc with your purchase. No streamlined all in one back up disc. Click Here For Warranty Information.