Primal PC has offered XBOX 360 repair for more than a year now. And we have learned about 20% of the the Xbox's that have succumbed to the rrod are not economical to repair. Why throw it out, it is a very cool retro looking design after all. Project Rebox gives you that option, instead of tossing or old console to the trash heap, why not re-propose it as a low profile small PC case. Project rebox or the Paradox as we have come to call it will offer several options to personalize your device, and these options add no additional charge. The first option will allow you to choose your case color, the second option will allow
you to choose your led colors, and the third option will allow you to choose what the ring around the power button will do. The option to change the led colors will effect the ring leds, and the internal leds which light up a small triangular window in the top of the case. The option for the ring leds gives you the choice of using the ring leds in chase pattern like the xbox360 when it booted as the hard drive activity led. Or you can choose to use all four of the ring leds individually. For example one can be used as a HD activity led, while others can be used for Bluetooth, and wifi status leds, and a dvd rom activity led. The choice is yours and again these options add no additional cost.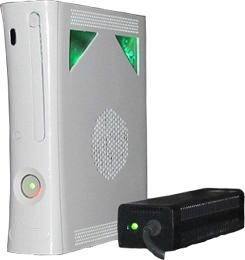 At Primal we welcome you to upgrade your pc with out fear of voiding your warranty; after all it is your unit that you spend your hard earned money on, and in these hard times we can appreciate that. If you have any questions before performing an upgrade(s) please call us. Primal does not use any proprietary parts, mainly name brand of the shelf parts which make the unit easier to upgrade and repair. You will also receive a true driverís disc and operating system disc with your purchase. No streamlined all in one back up disc. Click Here For Warranty Information.