The Legion is the second custom gaming computer from Primal PC; again the Legion was built as an affordable or cheap gaming computer. This custom computer is an upgrade from the Phantom, its most basic configuration offers, an upgraded case, CPU, and Motherboard. The CPU for the Legion is still an AMD APU but is the quad core A6, in instead of the dual core A4. The basic configuration relies on the integrated 6530D GPU, but like the Phantom the Legion was custom computer developed with the modder in mind. That means the upgrade options only add the WiFi, graphics card, and not any
system ram. This option was left out to help keep the price down in the affordable gaming computer zone. The ram can always be upgraded down the road with out fear of you loosing your factory 3 year warranty.
For a custom gaming computer the Legion is not only a good buy, but a great platform to start with if you decide to upgrade your affordable gaming computer in the future. The case that was chosen for the Legion comes with a much more advanced cooling system then the Phantom. The cooling system is integrated into the front panel and allows the user to set a fixed temperature threshold. The temperature threshold is then used to monitor the internal temperature of the case, and then adjust the speed of the case fan in an attempt to maintain the set temperature threshold. If the temperature was to increase past the threshold it will warn the user. The system warns the user of the increased temperature via a buzzer and the LCD back light changes from blue to red.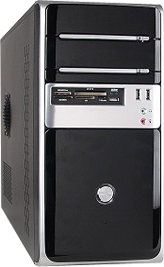 At Primal we welcome you to upgrade your pc with out fear of voiding your warranty; after all it is your unit that you spend your hard earned money on, and in these hard times we can appreciate that. If you have any questions before performing an upgrade(s) please call us. Primal does not use any proprietary parts, mainly name brand of the shelf parts which make the unit easier to upgrade and repair. You will also receive a true driverís disc and operating system disc with your purchase. No streamlined all in one back up disc. Click Here For Warranty Information.