The Phantom is an entry level custom computer from Primal PC, this custom computer is considered an affordable or cheap gaming computer. Even in its most basic configuration this custom gaming computer is more than capable of playing most pc games at medium to high resolution. The graphics of this affordable gaming machine in its basic configuration are comparable to any Xbox 360 or Playstation 3 while running a multiplatform pc game. We have chosen the name Phantom for this particular model, due to the look of the Sentey case we have chosen to use. The case has a very smooth retro look which is
complemented with very soft lines, but at the same time doesnít stand out. The case has more than efficient cooling and plenty of room for any upgrades that a modder would choose to add to the pc. Unfortunately the case only accepts low profile cards, but not that this is a disadvantage. Their are plenty of choices for expansion cards in the low profile format. The new Asus motherboard also supports the hybrid crossfire x for a more economical performance boost in video performance. If this feature was to be utilized Primal would suggest finding a graphics card with a 6000 series ATI chipset. ATI says the feature will work fine with higher end chipsets, but the only problem the modder would run into is the performance. The system will most likely down clock the new chipset to match the performance of the older onboard GPU speeds. The modder would be better off at that point to just disable the on board graphics and run the new expansion card on its own.
Please check the available upgrade packages we have available for the Phantom affordable custom computer, or gaming machine. The first set of upgrades offers a graphics card with a 6570 chipset cross fired with the onboard GPU, internal WiFi adaptor, and upgraded system ram. All these upgrades, and a three year warranty, in a custom gaming computer for only 574.99.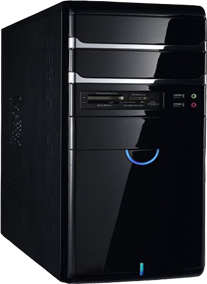 At Primal we welcome you to upgrade your pc with out fear of voiding your warranty; after all it is your unit that you spend your hard earned money on, and in these hard times we can appreciate that. If you have any questions before performing an upgrade(s) please call us. Primal does not use any proprietary parts, mainly name brand of the shelf parts which make the unit easier to upgrade and repair. You will also receive a true driverís disc and operating system disc with your purchase. No streamlined all in one back up disc. Click Here For Warranty Information.